About Miramar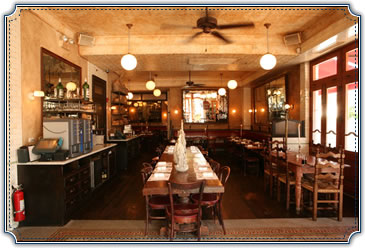 Long intent on bringing a new blend of family-friendly cooking and distinguished fine dining to the North Shore, owner and Executive Chef Gabriel Viti has opened Miramar, a combination of traditional French bistro and the lost in time cuisine of Cuba.
Miramar (named after an exclusive suburb of Havana) offers classic bistro dishes, executed at the intensely high level of quality loyal diners have come to expect a block away at Gabriel's restaurant, as well as Cuban-style pressed sandwiches and American staples like a hamburger and oysters Rockefeller that are second to none. Attention to detail has been the hallmark of this long-in-development project, which has been stewing in the back of Viti's mind since the day he first went into business in Highwood – where he also grew up.
Reclaimed subway tiles cover the walls, tiny mosaic tiles line the floors and copious amounts of leather accent the deep, wooden bar, while antique mirrors circle the 270-seat restaurant. Even the restrooms are reminiscent of times past with the equipment hailing from as far back as 1910 and being made of china instead of porcelain. The chairs, 60 of which were brought to Highwood from a restaurant in Tuscany, are all imbued with the slightly worn look that would, in Cuba, make Miramar seem like a pre-Castro restaurant. The wooden tables, some of which are communal, are left bare of paper or tablecloth, leaving the character-laden wood exposed so that the earthiness of the entire enterprise comes through. The Miramar menu acts as a placemat.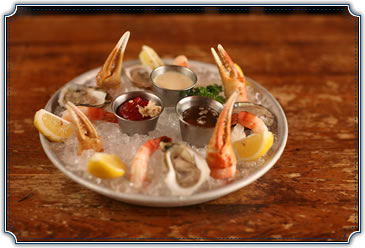 Viti is known for the incredibly high level of service in his restaurant and the already trained staff at Miramar is no exception, though in a nod to the more casual atmosphere, they wear jeans and button-down white shirts with long, bistro-like aprons- so customers are comfortable whether dressed up or dressed down.
Having long planned to one day open a French bistro as a more casual counterpart to the Gabriel's Restaurant, Viti's vision got specific upon his fourth visit to Havana, a favored destination for the cigar-appreciating wine aficionado. But this trip was different. His local driver took him and his friends on a tour of the city, and then recommended a restaurant for dinner – La Floradita. This historic bistro has played host to the likes of all-time great author Ernest Hemingway and pictures of Hemingway and Castro dominate the scene there. "I just walked in and got a total sense of history and the waiter is laying down Hemingway history on us, like that he drank 16 daiquiris before 11 a.m., ". Says Viti. "It just has a great feel and I wanted to do something like that in Highwood. At Miramar, we want to offer customers exactly what they've demanded since. I've been in the business: a place where they can drink an affordable glass of good wine and eat really good food in a casual environment.
"And if parents want to come in and eat bouillabaisse while their kids have cheeseburgers, this is a place where they can feel comfortable as a family at lunch or dinner. Maybe it's where I am in life, raising my two boys, but I think it's important to have a neighborhood place that can serve as a venue for your night out or as an accommodating place to take the kids out. I think it's also a good place to have a cocktail, glass of wine, or a French draught beer, with a cheese plate after dinner and a movie.
"Maybe after 10 p.m. the music volume goes up, which also means you don't have to drive to the city to have a drink or a bite to eat at a really hip place. There is seating both inside (there are 100 hundred seats in the main dining room) and outside (40 outdoor seats), depending on the season." Miramar can also accommodate up to an additional 160 people for banquets and gatherings.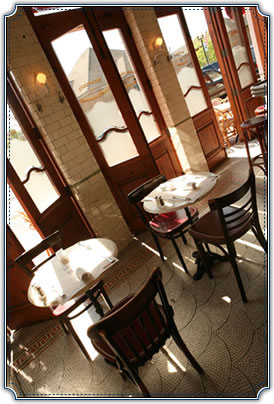 The unique menu at Miramar covers all the French bistro classics, guests can expect everything from escargot to steak frites, mussels, salad nicoise with ahi tuna or a salad Lyonnaise with poached eggs. Pressed Cuban sandwiches are offered, a ham and cheese sandwich served with a pickle, or a chicken breast pressed with pesto and covered in provolone cheese-very rustic, fresh sandwiches. Specials include items like Foie Gras and roasted squab. On the menu, Miramar also offers Plateaus Fruits de Mer or chilled seafood, which features three different types of oysters, shrimp and crab claws by the piece or platter.
The wine list offers 60-80 selections of wines (up to 15 by the glass) including wines from the Rhone and Burgundy areas, as well as Beaujolais. Pinot noirs, chardonnays and sauvignon blancs from California and around the world are also offered.
As is true with all of Viti's ventures, Miramar is highly personal to this renowned Chicago chef. "I actually stay in Miramar when I go to Cuba," says Viti. "Before Castro it was the wealthiest suburb outside of Havana. It has a very elegant feel and the homes are large and beautiful, if a little run down. But it still has a great feel to it, being right outside of Havana and on the ocean. You just feel the history. Between being on a major New World-Old World trade route, with all the smuggling and pirates hovering around, there's a real mystique to it. You visit the Hotel Nacional in Cuba and the history is there. It's like time stopped, which didn't happen in Highwood, but our goal is to create the look and feel of a comfortable, time-worn neighborhood gathering spot."