What They Say
Chicago Magazine
Reverse Commute
An old legend and a young stud both land in unlikely suburban spots – and administer shots of adrenaline to their respective kitchens.
By Dennis Ray Wheaton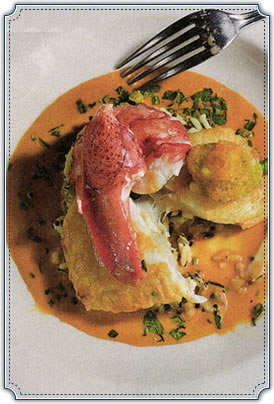 Up in Highwood, Miramar Bistro is looking more aged than faux-aged these days. I still have a soft spot for the tan stucco walls with big distressed bistro mirrors and authentic New York subway tiles and the mismatched bare wood tables and chairs. But what I really like is that Gabriel Viti, the owner, hired Roland Liccioni-the veteran chef of Le Français, Les Nomades, and Old Town Brasserie and Viti's old boss at Carlos' around the corner. Since Licccioni took over Miramar's kitchen in February, he's made the menu his own and kicked it out of its rut.
The appetizers still center on signature shellfish platters-good, but there are better (and less expensive) ways to start a meal here: Liccioni's artichoke terrine, for instance, an elegant triangle of marbled green served with a sprightly rémoulade and boutique lettuces. I can taste every denizen of his delicious crab, scallop, and lobster cake at the same time, but I don't understand why the waiter called the big-flavored rosy sauce an Asian lobster "foam"- OK, there were a few bubbles, but it was not a form. Wisely, there's no avant-garde fussing with the duck consommé, a Le Français standard dating back to the reign of Jean Banchet.
Liccioni has made a career out of pairing different meats and seafood on the same plate. Witness his carnivore's dream duo of braised short ribs and roasted rack of lamb, the first served over taro root purée and the second on excellent ratatouille. Sometimes the pairing is stealthy, as in his understated Alaskan halibut-that's the two-word menu description-which is actually perfectly pan-seared halibut with roasted lobster, both served on house-made linguine lightly coated in a creamy lemony lobster nage. A squab special sounded so Roland I had to try it: juicy roasted squab on French green lentils, themselves atop braised red cabbage and finished with fava beans and squab jus. Liccioni's sauces are always stellar: Check out the intense foie gras sauce gracing his roasted sweetbreads with fresh morels and favas. As you'd expect from Viti, the wine list is thoughtful, with many by the glass and carafe. Our fave was a 2006 Belleruche Côtes du Rhône by M. Chapoutier ($18.75 by the carafe).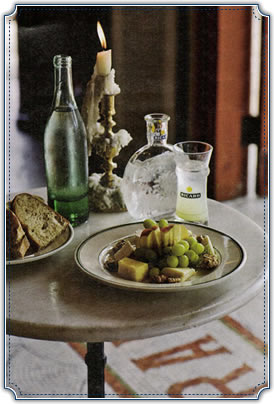 Leave it to Liccioni to produce a wonderful pineapple upside-down soufflé for dessert, but then he goes overboard with what looks like a tough cellophane sheet between the soufflé and the pineapple topping-tasteless as it dissolves in the mouth. I suspect he's fooling around with one of those molecular cuisine mutants such as tapioca-starch-based Ultra-Sperse 3 (or Ultra-Tex 3) that make edible films. Hey, Chef: Drop the shenanigans and stick to your great soufflés or your equally wonderful lemon pistachio tarte.
I love most of what Liccioni is doing, but many things about Miramar confuse me. The signature Hemingway Daiquiri was so watery, Hemingway would have thrown it at one of the mirrors. The bread-baskets lined with tattered beige linen look grungy, echoing the tear in the red awning out front. And why is Gabe Viti keeping Liccioni's involvement so low-key? The chef's name does not appear on the menu (nor on the website), and I had to ask a waiter just to verify Liccioni's position. Even under Viti's ownership, service can be glacial, with more staffers hanging around than Jay-Z has in his entourage. And that shop down the block called The Bent Fork must have been where thy got the forlorn one set by my plate. Miramar's kitchen is on the rebound-but who's watching the store?